Discover how to buy adult and mainstream push notification traffic on a per click basis from our publishers. Don't miss this one, media buyers!
As an advertiser at PlugRush (regardless if you're a media buyer, offer owner or affiliate marketer), you can buy adult and mainstream traffic through Push Notification Ads, and you will only pay if the person seeing your ad actually clicks on it. We do not charge you for simply showing the ad to someone.
Push Notification Ads 101
A push notification is a message sent to an end user, be it to their mobile device (i.e. a smartphone) or a desktop computer, after they have opted in to receive notifications from a given website or mobile app to become a subscriber.
Generally displayed on the home screen of mobile devices (f.ex. on Android phones) and in the message portion of desktop operating systems such as Windows 10, advertisements delivered via push are extremely engaging and effective.
Here is an example of a push ad on Windows 10:
And here is how that same push ad would look on an Android phone:
Push Notification Ads at PlugRush are structured similarly to our native ads. A small ad image is used with some descriptive text. Because people that receive these advertisements have opted in for messages from our publishers websites, they are primed to be interested in what is being sent to them from one of their favorite websites.
When they tap or click on your push ad, they will be ready to engage with your landing page and they'll hit your conversion funnel running at full speed. Ready to convert!
Only pay when someone clicks your push ad
As mentioned above, we do not charge per impression, but per click. This means each visitor your push notification ad campaign receives from us will be a person that has:
Chosen to opt in to receive push notifications from one of our publishers websites.
Additionally made the choice to click on your advertisement in order to discover more about your product or service.
This means the traffic you pay for and get sent will be ready to see what you have to offer them. The quality of this traffic by default may even be superior to visitors bought from banner ads.
Rotate ad images often on push ads
When we consider the nature of advertisements via push, it's important to be engaging for the end user in order to achieve a great Click-Through Rate (CTR) on your ad campaign.
We very strongly recommend that you often change the ad images you're using on your push ad campaigns. While it's important to split-test banners and native ads for on-site display ad campaigns, it's even moreso imperative on the push notification ad-format.
Remember that this ad format delivers a message very directly to end users, so if they're shown one ad from your campaign today, you should make sure that the next ad exposure for them is a slightly different experience in order to have another chance at engaging them, and getting them to click your advertisement.
Timing is everything
When you create ad campaigns inside PlugRush for Push Notification Ads, you need to very carefully consider at which time of the day your campaign should run. For many offers, it for example doesn't make sense to send push notifications to users in the middle of the night.
On the other hand, for some specific offers (generally ones that are adult in nature), it can make a whole lot of sense to test how they do running at night for users.
Either way, make sure you make use of the schedule feature available in the campaign creator to target the times of the day (in the relevant timezone) when your target audience is likely to be online and ready to engage with a push notification advertisement.
Setting up an ad campaign for Push Notification Ads
Now that you know what a push notification is and why you should be buying this traffic from our publishers, let's outline how to create Push Notification Ads and then use them for a campaign to buy push traffic from subscribers collected by PlugRush's publishers.
Step 1: Create Push Notification Ads
In the user interface, go to BUY TRAFFIC, Creatives and then click on the green 'Create Push Ad' button to start.
On the page that follows, you can then create push ads. To begin with, select the main ad image you'd like to use. You can upload, import from a URL, or use an ad image you've previously used already.
Make sure the image is at least 512x256px in size. You can crop it after uploading.
After you upload the main ad image, you should also upload an icon image (at least 192x192px in size and ideally a square), add a title, description and the URL you'd like your ad to send people to after they click on your push ad.
Push Ad Guidelines
The guidelines image below illustrates how push notification ads will look on mobile devices and desktop computers. The image also shows the various parts of push ads with guidelines to follow when uploading push ad creatives.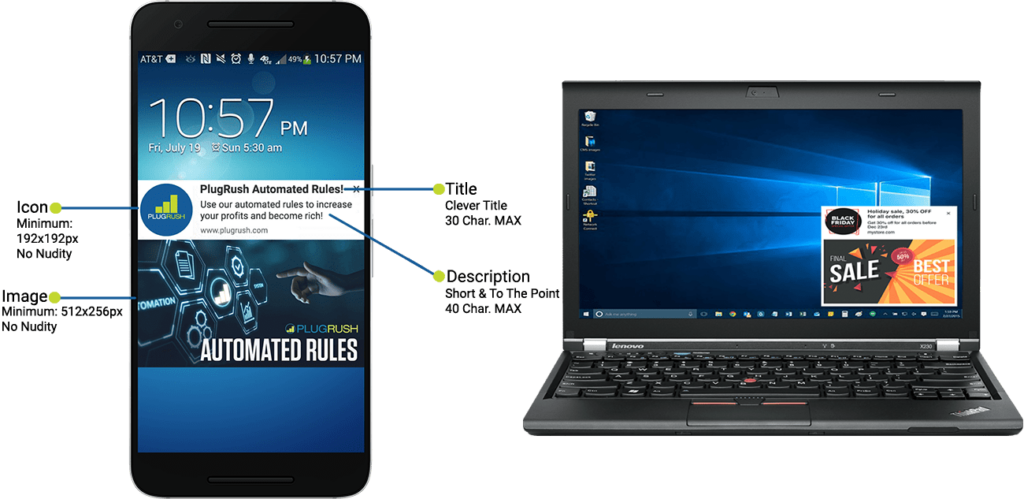 Pro tip: If you're uploading a lot of ad images in bulk, you can mass edit titles, descriptions, and URLs in the top row.
Step 2: Create a campaign with your ads
Once you've created some push ads to use, you can make a campaign with them here.
Under 'Delivery method' in the campaign creator, just choose 'PushAds' and an area will appear where you can assign Push Notification Ads you've created in Step 1 to your ad campaign.
You can always add or remove push ads later from your campaign, by simply editing it.
How auto-refunds on paused push campaigns work
Generally, when you pause or delete a campaign at PlugRush, the system will automatically refund its remaining balance after approximately 20 minutes of inactivity.
The only exception to this rule is push traffic, where it takes 24 hours.
Due to the potentially long delay between a push ad being served to an end user and them clicking or tapping on it (when they check their phone or desktop computer's message center) push notification ad campaigns have a 24 hour delay after they're paused or deleted, before they will auto-refund their remaining balance.
This also means that push ad campaigns may receive a few more clicks after they are paused or deleted in the system, due to the nature of this ad format.
Thank you for reading!
We appreciate that you've taken the time to read our guide for advertisers looking to purchase mainstream and/or adult traffic through our innovative ad-format Push Notification Ads.
If you own mainstream or adult websites and would like to monetize push notification subscribers through them, please read our Push Notification Ads Guide for Publishers.
If you have any other questions, they're probably answered in one of our guides. If you can't find the answer to your question there, please contact our stellar support team. They generally respond to tickets in under two hours!